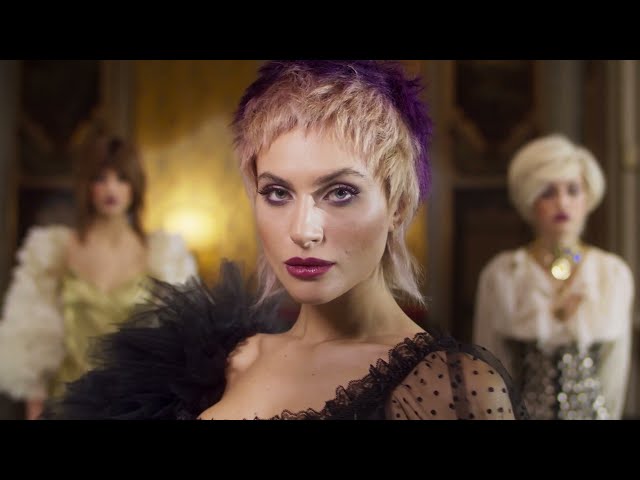 Revivre
The new hair Renaissance
Revivre is the result of an ambitious and refined project, an encounter between past and modernity, between dream and reality that is narrated for the first time also in a short film set in the sumptuous and iconic Palazzo Biscari in Catania.
This collection wants to be a tribute to all women, for all those times that they felt reborn. A new cut, a new color, a new shape, a new style to draw a new female figure.
The protagonist of this short film moves in a dreamlike atmosphere in search of a rebirth, for herself and for those around her. Revivre is in fact a collection that invites to revive the true essence of people, even when they are hidden in secondary and marginal roles. And it is precisely when you change your point of view that a renaissance takes place.
The hair cuts and colors of this collection also play on the shapes renaissance. New volumes, new colors and new geometries to give life to a determined, strong, dreamy woman who chooses to start from herself every day.
Ready to start a new renaissance?
LOUISE
Charmer, dynamic and elegant. Louise is the icon who is reborn from the overwhelming strength of her look. Texture, asymmetry and shapes dynamism in a pixie cut that becomes even more intense by the purple nuances and shades of her color.
Get this look with:
Chromoplus Colorica
Newday
Colordem
Sea salt spray
Modeling paste
Perfect finishing spray
ELISABETH
Elisabeth is reborn with a new play of light and shadow and with an attractive symmetrical shape. This sinuous movement finds its maximum expression in the waves of her style but is easily adaptable to any look, from smooth to curly.
Get this look with:
Chromoplus Colorica
Newday
Colordem
Plumping hair mousse
Curl enhancing serum
Volume powder
Perfect finishing spray
HENRIETTE
Henriette is reborn from her color. Warm, enveloping, penetrating and intense that moves freely between the rounded shapes of her haircut.
Get this look with:
Newday
Colordem
Volumizing hair spray
Plumping hair mousse
Volume powder
Perfect finishing spray
SOPHIE
Sophie is reborn from the light of her blond. Platinum at the base and arctic at the ends for an enchanting, bright and sophisticated look that sinuously moves between the full and voluminous shapes of her haircut.
Get this look with:
Colordem
Smooth styling cream
Volumizing hair spray
Volume powder
Comments are closed